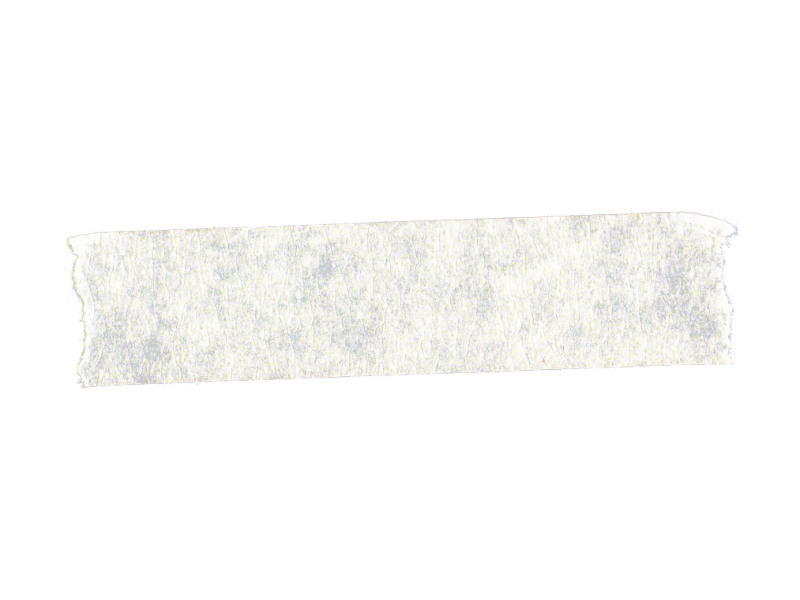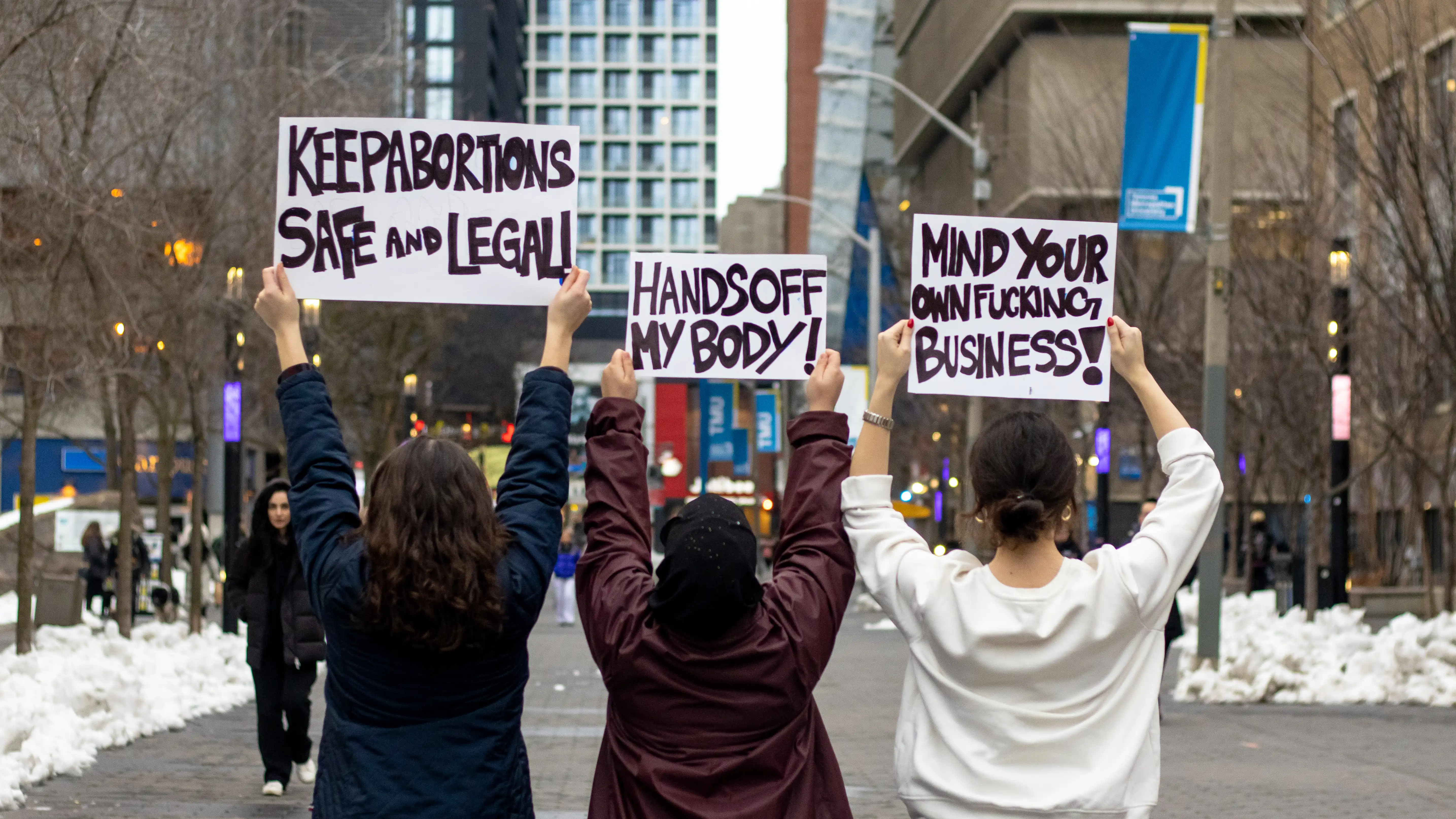 "A Scare tactic"
TMU students say anti-abortion protestors incite fear and spread misinformation
Trigger warning: this article contains mentions of abortion
Amelia Parks* vividly remembers sitting in the old, grey house-turned-clinic in Cabbagetown, feeling completely alone after her abortion last year. With the lack of overall information about the procedure and pressure to keep what she was doing quiet, Parks describes it as a "terrible" and "traumatizing" experience.
"I was working full time. I had to take three days off of work, which was really difficult because I couldn't tell people what I was doing," she says.
Now, when Parks walks by anti-abortion campaigners on Gould Street, she immediately feels unsettled by the picketers wielding signs with photos they claim depict aborted fetuses.
For Parks, who had an abortion last year, seeing these signs proves difficult.
"It's super triggering to see on campus," says the masters student at Toronto Metropolitan University (TMU).
For TMU students who frequent Gould Street, facing these anti-abortion campaigns can be jarring, triggering and make them feel unsafe at their own school. A place meant to be a safe space quickly becomes hostile and uncomfortable when seeing their gory, misinformed signs.
University of Toronto assistant professor at the Factor-Inwentash Faculty of Social Work, Stephanie Begun says anti-abortion protestors are misinformed and try to incite fear and control with their actions.
"These graphic images aren't even really depicting what happens in the process of abortion. It's a scare tactic. It's about control," Begun, who has experience with research expertise in reproductive justice, says.
In fact, one expert in a
CTV article
from 2014 stated many of the photos of "fetuses" used by these campaigners are actually computer-generated photoshopped images.
Parks argues the same point, saying all of their claims are full of misinformation.
"They have incorrect signage," she says. None of them could tell you the proper way to calculate the gestation of a fetus…They have no idea how that works."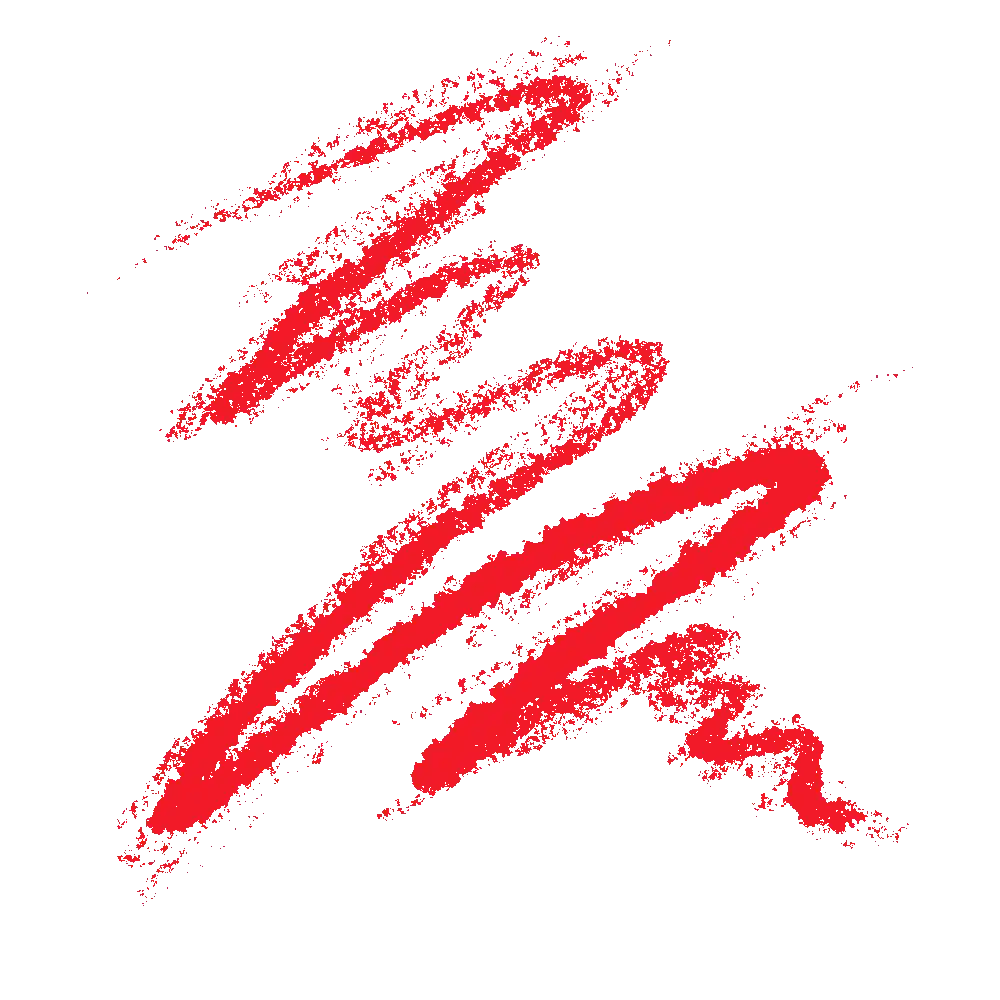 The Eyeopener reached out to Toronto Against Abortions (TAA), an anti-abortion group which has been campaigning on public property at TMU since 2016, according to their president Blaise Alleyne. Alleyne says they exercise their Charter rights to show photos of "healthy pre-born children in the womb, and of children who have been decapitated, dismembered, or disemboweled by abortion" to prove their stance that abortion is an act of violence and to "call for peace."
Parks says these demonstrations don't leave any room for a safe discussion surrounding these topics.
"These protesters being allowed on campus just propagates this wall and inability for women to actually talk about these issues that everybody faces," she says.

In the fall semester of 2022, Khushy Vashisht, a second-year journalism student, was standing at the intersection of Church and Gould streets with her friends waiting for the traffic lights to change so they could cross the road. They were leaving the Rogers Communications Centre after class when they encountered a group of anti-abortion campaigners.
While Vashisht usually ignored the protestors, on this specific day she had the urge to say something. "It's a woman's choice," she remembers telling one of the protestors when asked for her opinion on the matter. "That's as simple as we put it," she says.
But that one comment from Vashisht was enough to elicit the protestors. "They start asking these purposefully provoking questions to edge you on," she says.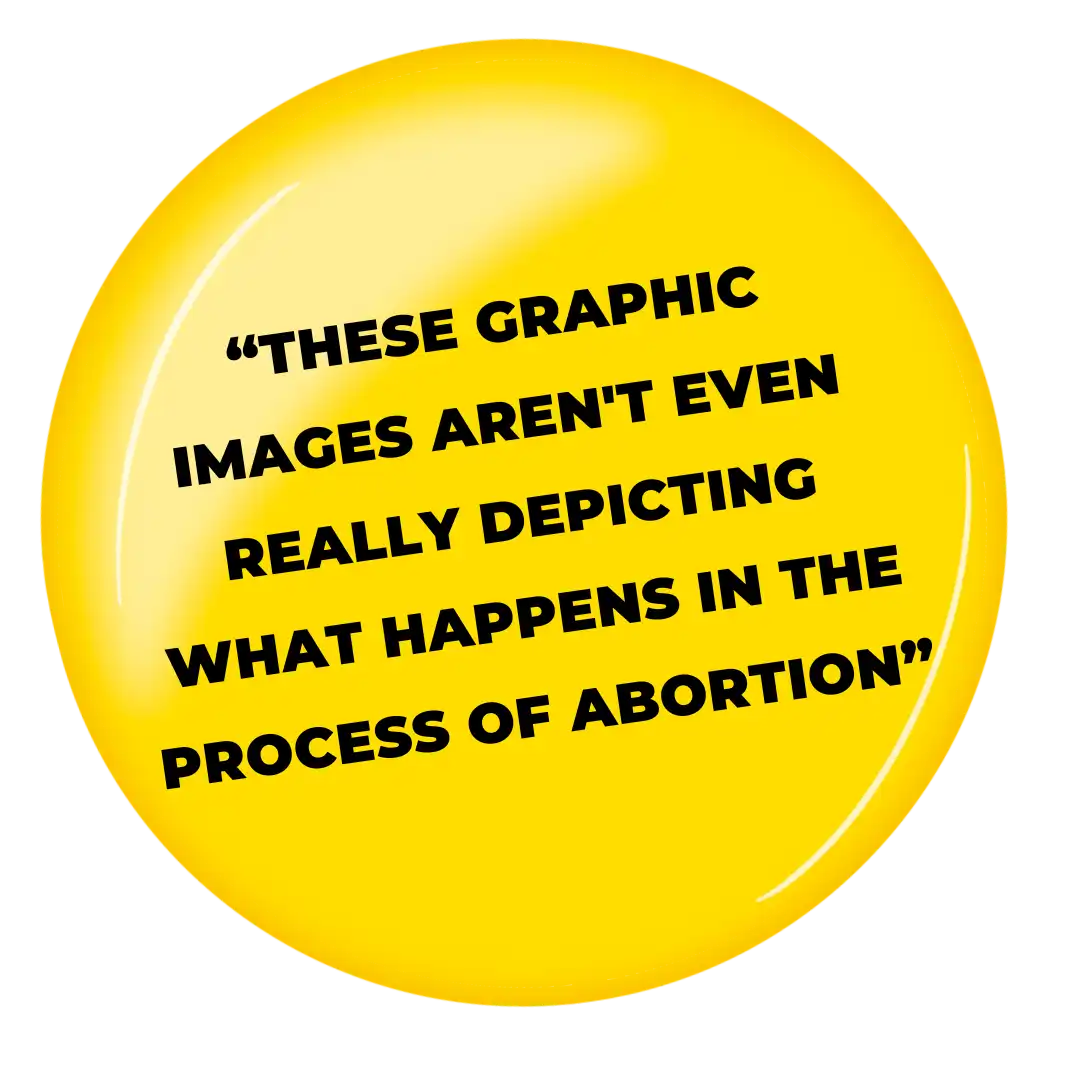 Eventually, a small crowd began to form and one of the campaigners made an analogy that Vashisht thought was "simply incorrect." She says they kept saying "What if someone kills a one-year old child?"
She was shocked to hear such a comparison.
" We're now talking about a living, breathing self-operating human…versus a fetus—an organism that isn't fully developed yet," Vashisht says.
Many anti-abortion campaigns spread misinformation, such as claims that abortions cause infertility and breast cancer, a 2022
report
from Action Canada for Sexual Health and Rights reveals. One of the largest studies on breast cancer and abortions was published in the
New England Journal of Medicine
in the late '90s. It involved 1.5 million women and found no link between induced abortions and breast cancer. An updated look at this study from
2015
had similar findings.
Another common myth is that a significant amount of women willingly choose to have late-term abortions.
Data
from the Centers for Disease Control and Prevention in the U.S. published in 2015 showed that two-thirds of all abortions were performed at or before eight weeks' gestation and more than 90 per cent were performed at or before 13 weeks' gestation. Less than one per cent of abortions were performed at or beyond 21 weeks, a 2019
study
from the
Kaiser Family Foundation
, an American non-profit organization, found. The study also found that these late term abortions are typically done due to medical concerns such as fetal anomalies or maternal life endangerment.
Dan Horner, an associate criminology professor at TMU with expertise and research in public space and political protests, says anti-abortion campaigners are looking to create doubt in people's minds. He says anti-abortion protesters use "aggressive" and "jarring" tactics to push their point across. "They're trying to plant that seed to raise doubts about whether people should have this procedure done. That's really the goal here," he says.
In the same comment to The Eye, Alleyne stated she understand s some people disagree with the TAA's message, but said it stands by the accuracy of all the information it shares.
Vashisht says removing these protestors from campus would make her feel much more comfortable at school. This move has already been made at some schools. D ue to misinformation being spread, Acadia University in Nova Scotia took it upon themselves to
remove an anti-abortion group
posing as a pregnancy support group from its campus in 2018.
"The justification for pushing these activists off campus is actually that they are providing misinformation, especially around the medical claims…They're baseless claims," Horner says.
But when it comes to legally removing protestors from TMU campus it can be tricky. "I think the governing bodies of the university, who tend to be very nervous people, don't want to rock the boat. [They] don't want to generate a lot of publicity," Horner says. "They hesitate, even though it is within their rights."
T he anti-abortion campaigners are careful about where they physically stand at TMU, says Ronald Stagg, a professor in the history department with expertise in the history of social protest. "They're careful, as far as I have seen, to stay on Gould Street," Stagg says. He says since Gould Street is on City of Toronto's public property, the groups are not technically trespassing.
The freedom of peaceful assembly is protected under section 2(c) of the Charter of Rights and Freedoms. It includes the right to participate in peaceful demonstrations, protests, parades, meetings, picketing and other assemblies. It also protects the right to demonstrate on public streets.
In a statement to The Eye, TMU President Mohamed Lachemi says while he understands the presence of anti-abortion groups on campus can be upsetting to some students, the university can't engage with them when they're on public city property.
"We don't own those streets and those [streets] are..property of the City of Toronto," he says. "And the City of Toronto does not require permits for people to protest."
Lachemi said the presence of groups or protests on City of Toronto property is not an endorsement from the university and TMU encourages students who feel impacted to access support through the
Center for Student Development and Counseling.
Vashisht would like to see changes to make campus a more comfortable learning environment. "No one is here to be berated about their personal beliefs," she says. "No one is here to wait at a stoplight at an intersection to cross the road and have horrible comparisons and analogies screamed at them in their ear. If something can be done it needs to be done."

One afternoon while walking to class in first year, Taite Krueger encountered anti-abortion campaigners outside the Sheldon and Tracy Levy Student Learning Centre. She was walking quite close to them when they asked her to come over and talk.
"I said I wasn't interested. That sort of triggered them," she says.
Krueger adds that she doesn't recall the exact words spoken to her, because of the immediate panic that hit her as soon as the protesters yelled at her.
Krueger, now 23 and a recent graduate of TMU's creative industries program, describes the encounter as a "horrible experience." Looking back, she says she instantly froze during the altercation. "Ever since then, even just seeing them makes me uncomfortable."
Krueger says these campaigns shouldn't be allowed, noting that school is supposed to be a safe space and the protestors are negating that atmosphere. "The images they use…it can be very, very triggering…[for] anyone who has been through that."
According to Begun, it's very likely that these demonstrations will impact students who have had abortions. "Of course that's going to be triggering and impactful to random passers by, just thinking statistically about how many people do experience and obtain abortions. It's really part of our healthcare," Begun says. "It's common."
A 2022 statistic from the
Angus Reid Institute
––Canada's non-profit foundation committed to independent research–– found that two in five Canadian women know a close friend or family member who has had an abortion, while one in six women have had an abortion themselves.
Begun also says the demonstrations happen on campus because they can t arget a young group of people who are still learning. She added that it's not uncommon for young women to be uninformed about reproductive services.
"I think it's often a taboo topic. If it's something that isn't being talked about, perhaps readily at home, it certainly isn't being talked about enough in an education system," Begun says. "So the demise of sex education in Canada and the U.S. is just not covering this at the extent to which it represents an important part of people's lives."
Sex education has been under hot fire as of late. Here in Ontario, the Ford government repealed the updated curriculum from 2015 and reinstated the version from 1998 in elementary schools five years ago. The 1998 version lacks concepts such as consent, online sexual safety and even the naming of body parts, a PDF of the
curriculum
reveals.
Nineteen states in the U.S. have an abstinence-only sex education. These include Arizona, Arkansas, Florida, Georgia, Indiana, Kentucky, Louisiana, Michigan, Minnesota, Mississippi, Missouri, Montana, North Dakota, Ohio, Oklahoma, Tennessee, Texas, Utah and Wisconsin. Only seven states have mandates for sex education, reports from
Planned Parenthood
and
World Population Review
reveal.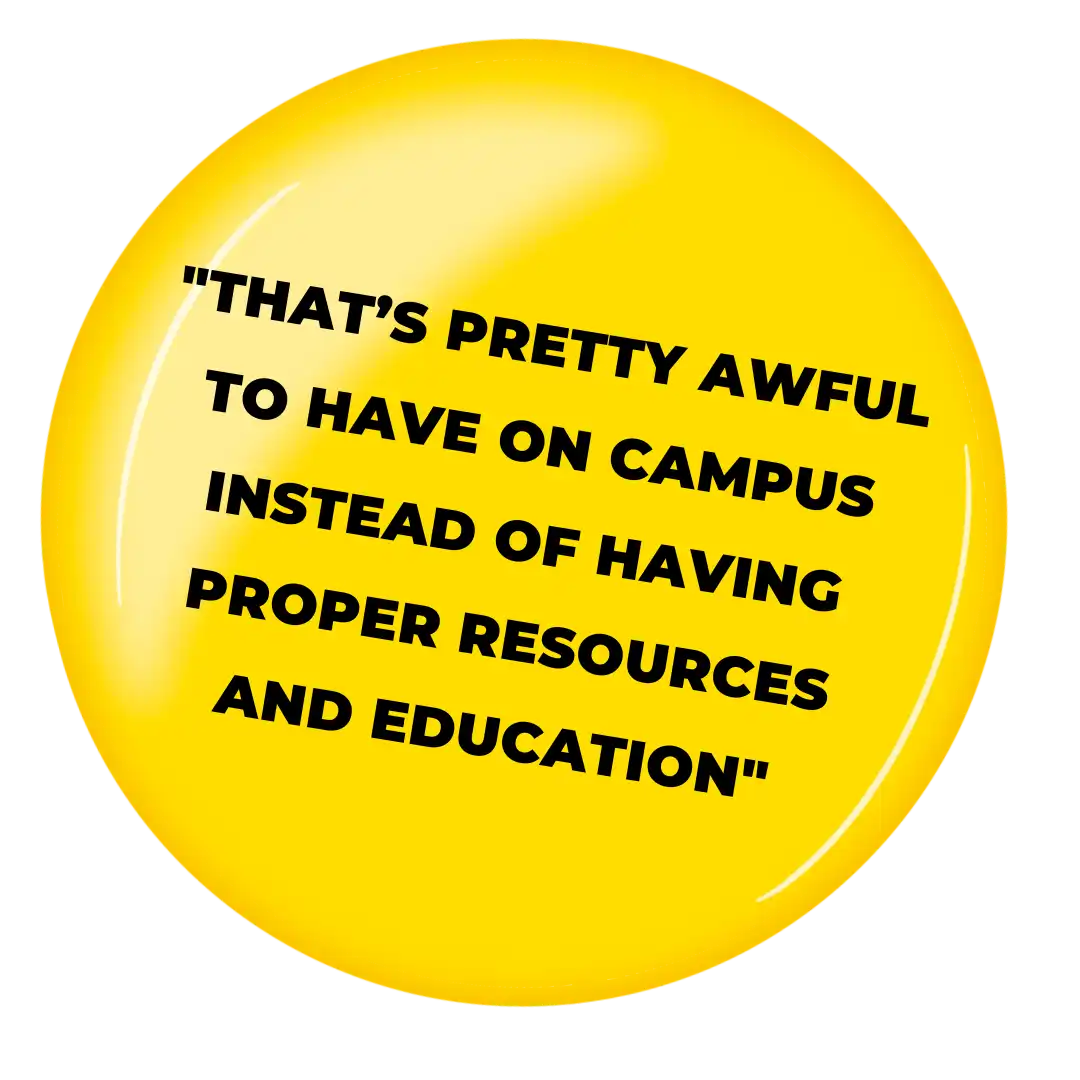 Alongside a general lack of adequate sex education, reproductive rights have also recently been threatened in the U.S.
In June 2022, the U.S. Supreme Court overturned Roe v. Wade, the 1973 landmark legislation that made access to an abortion a federal right. The decision tore apart half a century of legal protection and opened the option for individual states to diminish or ban abortion rights altogether, according to research from
American University
. Since then, 13 U.S. states have
fully banned abortions, according to
The
New York Times
.
Krueger says she feels uneducated about contraceptives like birth control and intrauterine devices, better known as IUD's. "There's so much that we don't actually know and that we don't learn. That's a huge issue," she says.
Begun says schools will typically spend a day or two on the topic of contraceptives and then move on. If a student misses that day, they likely will miss any information on reproductive services.
A 2019 report from
Action Canada
titled "The State of Sex-Ed in Canada," found that many teens across the country did not know where to access sexually transmitted infection testing, what consent and safe sex looks like or where to access contraceptives. The report also found that teens felt that sex-ed only teaches "fear and shame," while some call their sex education a "failure."
Krueger says women's health in general isn't as much of a priority as it should be, especially women's reproductive health. "We're not taught enough about it."
Looking back on her encounters with the anti-abortion campaigners on campus, Parks says she recognizes that since she's a little older, it's easier for her to deal with the demonstrations because she is more well informed than younger students.
"I know enough to not be upset. But if you were a vulnerable 17-year-old or 18- year-old undergrad student, that's pretty awful to have on campus instead of having proper resources and education, especially for younger women," she says.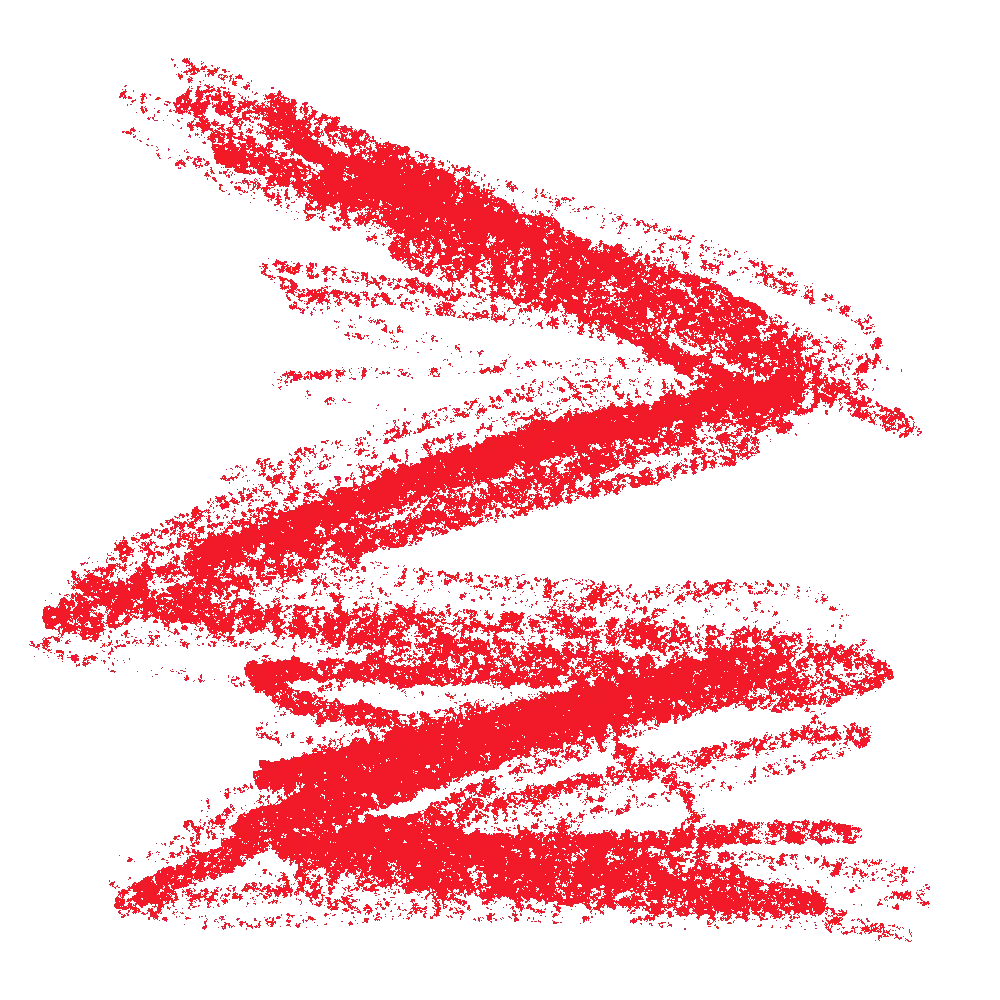 While access to abortions and sex clinics are available in Toronto, it's only accessible if you had prior knowledge to locate these services, Parks says.
"Who you are and where you live and what type of circumstances you come from will determine how accessible it is for you, even in Canada, which I think is something that people don't really realize."
According to Begun, the overturning of Roe v. Wade makes abortions inaccessible for many Americans, including young people and marginalized communities such as women of colour, people living in poverty and those living in a rural area.
"Those who already faced a lot of systemic barriers and discrimination in our healthcare system feel this even more intensely." And while a major threat has been made on women's healthcare just across the border, there is still "work to do" in Canada when it comes to reproductive rights, Begun says.
Canada became one of a small number of countries without a law restricting abortion in 1988, according to the
National Abortion Federation of Canada
. Now, abortion falls under provincial healthcare systems as a medical procedure, which means access to the procedure differs between provinces and territories.
"It's not a constitutional right in Canada," Begun warns. "Things could certainly change as governments and different parties come into power."
While it may be a "taboo" topic, for Parks, who dealt with her abortion not too long ago, it's important to talk about. "[An abortion] is not fun for anybody and [protesters] just make it worse. I don't know anyone who wouldn't describe it as not even slightly emotionally traumatizing."
Parks says she wants to open more conversations about these experiences because it will inevitably help someone who may be feeling isolated and alone.
"It's a health issue," she says. "It's literally basic healthcare and denying people access to that is straight up wrong."
* Source's name has been changed to protect their privacy and identity